Only 2 and bit weeks to go until I attend my first X-Wing store champs an
Escalation event at Cerberus Games in Wellington
and I'm very much looking forward to it. Not expecting much from myself as my experience with the game is still limited but I am expecting to have a very good time.
I'm also expecting to get a lot more ships soon as my High Elves are selling pretty well on Trade Me which will allow me to fund several new purchases... just have to decide what I want first.
My final escalation lists for Cerberus
Worked through a number of different options but settled on the lists I put together the first time round. I like them as they provide a strong balance between hull points, attack dice and ship numbers. The format means that if you want to take a big ship you can only take 1 or at possibly 2 non-tricked out low pilot skill ships e.g. two outer rim smugglers would cost you 54pts but then you lose a lot of the bonuses you want from those elite pilots and have a horrible PS.
Anyway my final lists are:
Round 1 (60pts – Min 2/Max 8 Ships)


















13 Hull points, 8 attack dice, 4 ships
I don't intend to fly it in a formation type swarm but more of a loss gaggle as I find that easier to move. Fully expect other players to either spam swarms as well or to squeeze in a Fat-Han type ship with something cheap to make up the 2nd ship requirement. So having lots of targets for the bigger ship to shoot at makes my job easier (well hopefully)
Round 2 (90pts – Min 2/Max 8 ships)


















16 Hull points, 11 attack dice, 5 ships
Bit of a no brainer really Soontir Fel with Push the Limit giving you the ability to double focus each round - Focus, PTL Evade, Focus. The Academy Pilots mean I can block ships but then with Swarm Tactics I have 2 PS8 & 1 PS9 guy most likely shooting first.
Round 3 (120pts – Min 2/Max 8 ships)


















19 Hull points, 14 attack dice, 6 ships
Carnor Jax and his ability to deny people the chance to focus or evade is just golden. Outmanoeuvre gives him and the swarm a bigger chance of getting hits through especially if that focus/evade isn't there.
Round 4 (150pts – Min 2/Max 8 ships)


















23 Hull points, 17 attack dice, 7 ships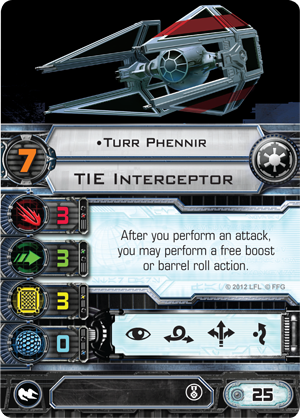 I would have liked to stick Mauler Mithel into the list in place of the 4th Academy Pilot but couldn't fit him in. In this list I have two lists I like playing the Soontir Swarm with Howlrunner and my 3 Amigos all the Elite Interceptor Pilots.